PortableApps.com
26.0
Legitimate portable versions for desktop apps!
It seems that the idea of carrying personal data and applications with you on a USB stick is rather obsolete. You might be right. Today, when almost everything seems to be synced with one cloud account or another and free applications are readily downloadable or can run in an incognito browser window, there's little need for such impractical objects.
Yet, here we have PortableApps. While it started in 2004 with a ready to run a version of Firefox which didn't need an actual installation, today it is still going strong with over three hundred applications, many of which are portable versions of well known open source applications. So it seems that people dig carrying their Inkscape around with them to work and for meetings. I don't know, but to be perfectly honest, when looking at the collection of software for PortableApps, carrying my web browser around with me sounds like an interesting idea. Never mind that I already have it on my mobile device. This could prove useful for viewing my tabs on some bigger screens.
Although it is a desktop app, PortableApps does not add any additional files than those found in its installation folder. That means that there're no registry files. In this way, you can keep it on a USB drive or even in the cloud and run it on any Windows machine.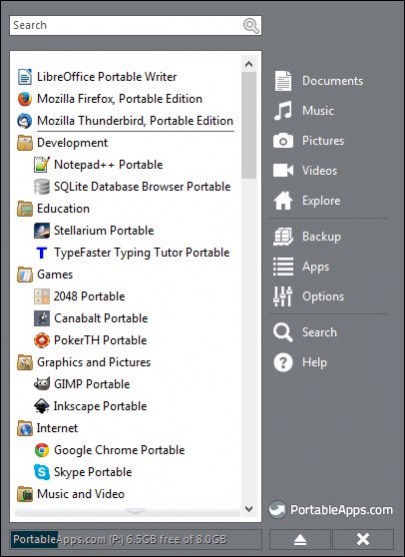 The various application installers can be found on the official PortableApps web page. There's a link from the application itself. Installations are performed from the PortableApps, and all apps are installed under the main folder. For instance, while you have PortableApps installed on your Google Drive, you can install new apps on one computer and run them on another.
The installed apps can be launched from the PortableApps window. From there you can also check how much space you have on the associated drive. The window disappears as soon as it is out of focus, which is a bit of an inconvenience. In this case, I wonder why there's also a transparency setting.
On other notable feature is the Backup option. PortableApps offers a simple backup option in which it can archive either the app data or documents into a 7zip archive. It can also archive everything on the host drive.
Features
Over three hundred apps that require no installation
Works locally, from portable drives and from cloud accounts
Apps update automatically
Backup option
Final Thoughts
I would use PortableApps in any remote instance where there's no need to access any of my personal accounts. You never know what keyloggers are lying in wait within the host computer. Although you can get several security apps, like an on-the-go antivirus (ClamWin) and a browser hijack scanner, I still don't like the idea. However, I find PortableApps very useful for carrying around common sense software like an office suite or a vector graphics app. Put them on a USB stick and carry them around with you, since the smartphone can't-do everything... yet.
RELATED PROGRAMS
Our Recommendations
---
---
---
---